French dictionary

French phrases

French grammar

French translation

French iPhone/iPad apps

Free French Software
The following software is available to download for free from this site. Unless otherwise specified:
the software is designed to work on Windows, Mac OS and Linux;
to run it, you need to download Java if you don't alreay have it installed.
French Word Searches
With this simple French Word Searches application, play themed word searches based on 1,200 items of core French vocabulary. When the program loads, you are presented with a menu allowing you to select the combination of French vocabulary topics that you would like to use for the game. See the 'Select none' and 'Select all' icons at the bottom of the window to help with single or multiple selections. Once you are happy with your selection, press the 'Play' button (the green arrow) to start the game.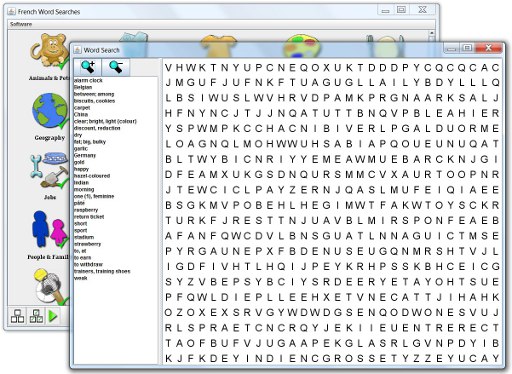 Download French Word Searches 0.5b (850K)
Gameplay
To highlight a word, select first the start letter then the end letter.
Support
For application support, please use one of the following options:
---
Written by Neil Coffey.
Copyright © Javamex UK 2013. All rights reserved. Last update 15 February 2013.