---
---
Product review:
Passport to Paris (PSP) (ct'd)
If like me you have no shame about getting your PSP out in public, then the maps section will generally be useful. You can select between various sections of Paris and the outskirts (e.g. North East Central 1, Greater Paris 2). There's also a metro map, though at any metro station you an pick up a pocket map that might be more handy. Each street map has 3 zoom levels, though text is illegible on Level 1 and at Level 3 you really have to know Paris quite well to figure out where you are. On each map, an icon is displayed for each sight, restaurant, shop etc (the different categories can be toggled on/off). This means the map can be quite handy if you are in a particular location and want to know what's around. A slight irritation I had was that it would have been useful to just have one big map of Paris rather than having to switch from one map to another when you 'go over the edge' as it were. This would also avoid having to guess whether you're in "south east central 1" or "south east central 2". Surprisingly, there is no search facility (other than being able to select a place from one of the other sections and jump to the corresponding map location). An obvious feature would have been to be able to search by street name, metro station name or at the very least arrondissement. A slight criticism of the software's screen layout is that it wastes space at the top of the screen. The PSP's rectangular screens shape would have suited having the zoom menu at the right hand side rather than at the top, which squashes an already squashed map even further.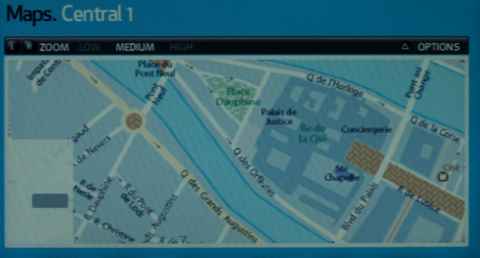 In principle, the image gallery could be useful for browsing a the list of sights or restaurants to see what you fancy the look of. A slight drawback is that some of Lonely Planet's photographically excellent but slightly abstract pictures don't always actually depict the place in question. (The poor "Red Light" bar is accompanied by a picture of some roadworks...)
| | |
| --- | --- |
| | The audio phrasebook is reasonably detailed, organised into expected sections such as leisure, sightseeing, transport etc. Slightly less usual sections include kids, with phrases such as can you warm up the child's food?. A handy feature is that you can press the X button on any phrase to hear it pronounced. Unfortunately, there are no customisable phrases. More sophisticated electronic phrasebooks allow you to customise numbers and dates in phrases such as "I want to book a room for X nights arriving on the Xth". A nice touch for Eurohoppers is that you get the phrases in the other languages of the series (Italian, German, Spanish, Dutch, Czech) thrown in for free. |
Finally, the guide contains a few "freebies": three audio tours, in case you want to walk along the Seine listening to the dulcet tones of your PSP, some timelapse videos of Paris and othe capitals from the series. There's also a "planner" feature that allows you to construct an itinerary from the places in the guide, or select from a number of pre-loaded itineraries. There's no feature to ad textual entries, however.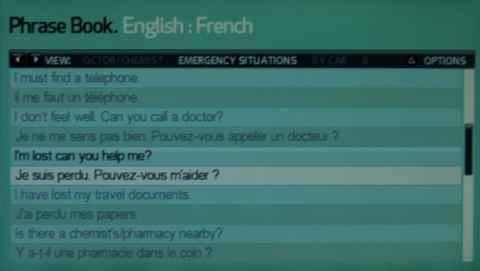 On the whole, I found Passport to Paris to be a useful companion. There are obviously times when a traditional paper guide or map will be more practical (you may not want to flash your PSP around at Pigalle metro station in the small hours). But for those moments when you're sitting having a coffee planning where to go next, or planning the following day's visit back at the hotel room, I would strongly suggest giving it a try. If you're taking your PSP anyway, then for the space of an extra UMD, you've nothing to lose.
---
[ Page 1 ]
---
(See the top of this page for information on buying this product.)
---
All editorial content copyright (c) Javamex UK 2009. All rights reserved.
All comments and material contained on this page are accurate to the best of the author's knowledge.